Aztec Bonus Pot Slot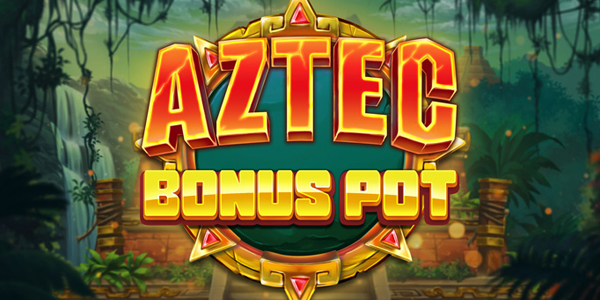 PLAY FOR REAL MONEY
Rated 94 of 100%
welcome bonus
100%/375€+100FS
Aztec Bonus Pot Slot Review
Venture to a towering Temple that sets the scene for this vibrant, 5-reel slot, with riches waiting to be discovered on every spin.
Slot Information
Provider:
Return to Player: 94.25%
Volatility/Variance: Medium
Progressive Slot:
Slot type:
Rows: 5
Reels: 3
Paylines: 243
Slot Layout: 5x3
Slot Features
Minimum Bet: $0.1
Maximum Bet: $50
Maximum Win: $5000
Available: Android, IOS, Windows
Other key facts
Date Launched: 20 October 2023
Theme:
Jackpot:
Gamification:
Special Symbols:
Good sides
+ Fun Theme and Storyline
+ Up to 5000x win
+ Bonus Pot Feature
Play Aztec Bonus Pot Slot for Real money
INTRO TO THE AZTEC BONUS POT SLOT
Are you ready for an amazing journey into the mesmerizing world of ancient Mesoamerican civilization with the Aztec Bonus Pot slot, a riveting creation from the renowned Gaming Corps studios. Imbued with vivid graphics that intricately capture the essence of the Aztec culture, this slot game stands out with its theme-centric auditory experience. The rich tapestry of symbols and visuals immerse players in a time long past, while its seamless compatibility with a range of mobile devices – from Androids to iPhones – ensures that adventurers can embark on this journey anytime, anywhere. Adding to its convenience is the fact that there's no need for any software download, making it effortless for players to start spinning and winning.
AZTEC BONUS POT SLOT ONLINE
Alright, slot enthusiasts, hold onto your sombreros because the Aztec Bonus Pot is about to blow your mind! Who needs a mere 20 or 30 ways to win when you can have a whopping 243? That's right, folks, Gaming Corps decided that regular slot grids were so last century. With a 5×3 reel setup, they thought, "Why not add a sprinkle of Aztec magic and amp it up with 243 ways to win?" And if you're in it for the big enchilada, then prepare to salsa your way to a payout of up to 5,000 times your bet during the bonus round. Whether you're lounging on your llama-shaped floatie or trekking through the jungle, the game's top-notch mobile compatibility means those wins can follow you everywhere! So, amigos, ready to unlock some ancient treasures?
AZTEC BONUS POT SLOT RETURN TO PLAYER – RTP – 94.25%
The Aztec Bonus Pot boasts an average RTP of 94.25%. Now, some of you might be raising an eyebrow thinking, "Isn't that a smidge below the gold standard of the top-tier Aztec slots out there?" Well, before you pack up your adventure kit and head back to base camp, consider this: the game's medium volatility comes in like a friendly llama, balancing things out and giving that RTP a shiny silver lining. So, while it might not be raining golden coins at every spin, this balance ensures a steady flow of wins and thrills, making every archaeological dig (or spin) worth the gamble!
AZTEC BONUS POT SLOT REVIEW
Stepping into the world of Aztec Bonus Pot is akin to embarking on a time-traveling escapade to the heart of a radiant precolombian civilization. From the get-go, you're immersed in a symphony of vivid colors that seemingly burst forth from every corner of the screen. The symbols don't just appear; they sparkle, shimmering with a kind of ancient energy, beckoning players into the depths of Aztec lore. Every design detail feels meticulously crafted, blending the lines between reality and a mesmerizing dreamscape. The theme is more than just visuals; it's an emotion, an experience, one where you can almost hear the soft whispers of ancient tales and feel the palpable thrill of exploration. Truly, the Aztec Bonus Pot isn't just a slot game; it's a visual feast that tantalizingly teases the senses, inviting adventurers to lose themselves in its rich tapestry.
WHAT ARE MULTILINE SLOTS?
Multiline slots are the adrenaline-junkies of the slot machine world! While traditional slots might have a single payline running straight across the middle, multiline slots, like our friend with 243 betways, play by their own rules. Instead of just one way to win, they offer multiple paths, zigzagging all over the place like a caffeine-fueled squirrel! In the case of a slot with 243 betways, imagine 243 different patterns that could turn your spin into a win. It's not just horizontal anymore; it's diagonal, zigzag, crisscross, you name it! With so many lines in play, every spin is an adventure, making multiline slots the go-to choice for those seeking an action-packed, edge-of-the-seat gaming experience.
AZTEC BONUS POT SLOT PAYTABLE
Venture into the heart of the Aztec Bonus Pot, and you'll be met with a paytable rich in both culture and coin! The majestic Jaguar prowls at the top, offering generous rewards of 1x, 3x, and 5x the bet. Meanwhile, the realm's other captivating creatures aren't far behind, bestowing gifts of up to x2. As for the minor symbols, the game takes a familiar turn, showcasing the classic card letters and numbers from the regal Ace down to the humble 10. These symbols might be commonplace in the slot world, but here, they come with a twist, doling out returns of x0.20, x0.50, and x1.50. But, dear adventurer, the real treasures lie hidden deeper within: the Instant Prize symbols and the tantalizing bonus features. So, prepare your wits and strategies because riches await in every spin!
AZTEC BONUS POT SLOT EXPLAINED
Unraveling the mysteries of the Aztec Bonus Pot symbols is like uncovering an ancient codex. During any base game spin, keep your eyes peeled for the enigmatic Instant Prize characters. These characters can make a grand entrance on reels 1 through 4 and are not just for show. They bring with them a treasure trove of values, ranging from a modest 1x to a jaw-dropping 100x the bet. But wait, there's an intriguing twist! If these symbols are paired with the coveted Collect symbol that graces reel 5, you're in for an instant payday, as all the amassed rewards are instantly bestowed upon you. What's even more thrilling is that this Collect symbol isn't just a passive participant; it comes armed with powerful multipliers of x2, x3, or even a whopping x5. So, in the dance of symbols, when the Instant Prize characters waltz with the Collect symbol, it's a jackpot jamboree!
HOW TO PLAY THE AZTEC BONUS POT SLOT
Diving into the mystical world of the Aztec Bonus Pot is a thrilling yet straightforward affair. To embark on this ancient adventure, begin by setting your desired bet size using the game's intuitive interface. Once you've chosen the stake that suits your treasure-hunting aspirations, hit the spin button to set the reels in motion. As they whirl, watch out for the tantalizing Instant Prize symbols on reels 1 through 4, and the pivotal Collect symbol on reel 5. Remember, the true magic unfolds during the Free Spins, where each Instant Prize symbol contributes to the growing Bonus Pot, the heart of this game's allure. To trigger these Free Spins, keep a keen eye out for the three scatter Pyramids on reels 1, 3, and 5. And if you're the type who likes to jump straight into action, the Bonus Buy feature is your express ticket to the Free Spins. With the game's mechanics and symbols at your fingertips, all that's left is to spin, explore, and let the Aztec riches unfold before you!
AZTEC BONUS POT SLOT ONE-LINE BETTING STRATEGY
The One-Line Betting Strategy is an old-school approach that some slot enthusiasts swear by, and it introduces a fresh twist when applied to the vibrant world of the Aztec Bonus Pot. Essentially, this strategy involves reducing the active betways to just a single line, aiming to maximize potential returns on that lone line. By doing so, players effectively conserve their bankroll, making it last longer while still keeping an eye out for those high-value symbols. In the context of the Aztec Bonus Pot, with its Instant Prize symbols and Collect mechanics, this strategy becomes particularly intriguing. Although you're betting on just one line, the game's feature-rich nature means that significant wins are still very much in play. It's a dance of patience and anticipation, a calculated risk that waits for the Aztec gods to shower their blessings on that chosen line. J
OUR 100 SPINS CHALLENGE ON AZTEC BONUS POT SLOT
Embark on a thrilling adventure with us as we dive deep into the heart of the Aztec Bonus Pot with our 100 spins challenge! We took on the vibrant reels, the tantalizing symbols, and the elusive Bonus Pot to see what riches we could uncover. And let us tell you, it was a journey filled with suspense, surprises, and spectacular moments. But why just read about our escapade when you can experience it yourself? We invite all our readers to take up the challenge and see where the spins lead you. Will you emerge as the ultimate Aztec champion? There's only one way to find out!
DOES AZTEC BONUS POT SLOT WORK ON MOBILE?
Worried about taking your Aztec adventure on the go? Fear not, for the Aztec Bonus Pot is as mobile as the wandering tribes of yore! Crafted using the latest HTML5 technology, this slot game smoothly transitions to the smaller screens of mobile devices. Whether you're using an Android, iPhone, or tablet, the game retains its vivid graphics, immersive sound effects, and seamless gameplay. So, wherever you are, the ancient Aztec world is just a tap away!
TRY THE FREE PLAY MODE
Before diving headfirst into the shimmering pools of the Aztec treasures, why not dip your toes in first? The Free Play Mode offers just that opportunity. Without risking a single coin, players can familiarize themselves with the game's mechanics, symbols, and bonus features. It's the perfect playground to devise strategies, understand payout patterns, or simply enjoy the game without the weight of real stakes. So, if you're curious but cautious, the Free Play Mode is your best friend, offering all the fun with none of the risks!
HOW TO WIN AT AZTEC BONUS POT SLOT
Ah, the age-old quest for Aztec gold! Winning at the Aztec Bonus Pot, like any slot game, requires a mix of strategy, patience, and a sprinkle of ancient luck. First and foremost, familiarize yourself with the game's symbols, especially the Instant Prize characters and the pivotal Collect symbol on reel 5. These are your tickets to the treasured Bonus Pot. Secondly, manage your bankroll wisely; it's a marathon, not a sprint. Consider leveraging features like the Free Spins or even the Bonus Buy if you're feeling particularly adventurous. But remember, while strategies can optimize your gameplay, slots are inherently games of chance. So, embrace the journey, enjoy the spins, and may the Aztec spirits guide your path to riches!
BONUS FEATURES AND FREE SPINS
As if venturing into the world of Aztec wasn't thrilling enough, the game designers at Gaming Corps decided to throw in an exhilarating mechanic called the Bonus Pot Feature. Picture this: As you journey through Free Spins, each sacred Instant Prize symbol you stumble upon doesn't just vanish – it gets added to this mythical Bonus Pot. This pot sits atop the reels, growing with each spin, teasing players with its tantalizing treasures. As the Free Spins reach their crescendo, the anticipation mounts. Will you get a chance to claim everything in the Bonus Pot, possibly amassing up to a whopping 5,000x your total bet?
The drama intensifies as three scatter Pyramids alight on reels 1, 3, and 5, unlocking 8 free spins. And hold onto your explorer's hat because these spins can be retriggered, amassing up to a staggering 100 free games! Throughout these Free Spins, the Bonus Pot keeps swelling with each Instant Prize symbol's value. As the bonus round draws to a close, reel 5 has one last trick up its sleeve: a final spin. Should the elusive Collect symbol make its appearance, the entire Bonus Pot becomes yours! But for those eager beavers who can't wait for the reels to align, Gaming Corps has thoughtfully included a Bonus Buy feature. For 83 times your selected bet, you can instantly buy your way into the Free Spins. Just remember, adventurers: this express route comes with an RTP rate of 94.17%. So, do you feel lucky?
AZTEC BONUS POT SLOT VOLATILITY
Journeying into the realm of the Aztec Bonus Pot is much like navigating the lush terrains of ancient Mesoamerica – filled with unexpected turns but generously rewarding for the patient traveler. With its medium volatility, the slot offers a balanced gameplay experience. Unlike the unpredictable wildness of high volatility slots or the frequent, smaller rewards of low volatility games, this medium volatility slot sits comfortably in the middle. It's the ideal ground for players who enjoy a mix of regular smaller wins interspersed with the occasional big jackpot. The Aztec Bonus Pot promises a steady rhythm of excitement, making it perfect for those adventurers who want the thrill of the chase without too many dry spells. So gear up and let the Aztec spirits guide your way to balanced bounties!
OUR CONCLUSION ON THIS SLOT REVIEW
After immersing ourselves in the vibrant and enigmatic world of the Aztec Bonus Pot, we've emerged both enlightened and entertained. This slot isn't just another addition to the plethora of Aztec-themed games; it carves its unique niche with innovative features, captivating graphics, and the tantalizing Bonus Pot mechanic. Its medium volatility ensures a balanced gameplay experience that appeals to both newcomers and seasoned slot aficionados. The inclusion of mobile compatibility via HTML5 is a testament to Gaming Corps' commitment to modern gaming standards, allowing players to embark on their Aztec journey anytime, anywhere. While no game is without its quirks, the overall package presented by Aztec Bonus Pot is both compelling and rewarding.
AZTEC BONUS POT SLOT: FREQUENTLY ASKED QUESTIONS
Is it possible to trigger Big Wins in Aztec Bonus Pot Slot?
Absolutely! The Aztec Bonus Pot Slot is designed with features that can lead to significant payouts, especially during the Free Spins round where the Bonus Pot mechanic comes into play. With the right combination of Instant Prize symbols and the Collect symbol on reel 5, players stand a chance to win up to 5,000x their total bet.
What makes Aztec Bonus Pot Slot so popular among players?
The Aztec Bonus Pot Slot stands out due to its rich graphics, immersive theme, and unique Bonus Pot feature. Players are drawn to the combination of traditional Aztec elements with innovative gameplay mechanics. The potential for big wins, especially with the Bonus Pot, adds an exciting layer of anticipation that keeps players coming back for more.
How can you earn Free Spins while playing Aztec Bonus Pot Slot?
To unlock Free Spins in the Aztec Bonus Pot Slot, players need to land three scatter Pyramids on reels 1, 3, and 5. This grants 8 free spins initially, and the bonus round can be retriggered up to a total of 100 free games. Additionally, there's a Bonus Buy feature that lets players purchase Free Spins at a specified cost.
Can you use Bonus Money to play Aztec Bonus Pot Slot?
Yes, if an online casino offers bonus money as part of its promotions or welcome packages, players can typically use this bonus money to play various slots, including the Aztec Bonus Pot Slot. However, it's crucial to check the specific terms and conditions of the casino or the bonus offer to ensure its applicability.
What is the inspiration behind the name of Aztec Bonus Pot Slot?
The name "Aztec Bonus Pot Slot" is derived from its core theme and primary feature. The game is steeped in the lore and visuals of the ancient Aztec civilization, while the "Bonus Pot" references the game's unique mechanism where Instant Prize symbols accumulate in a pot during the Free Spins, offering potential big wins to players.