Brooklyn Bootleggers Slot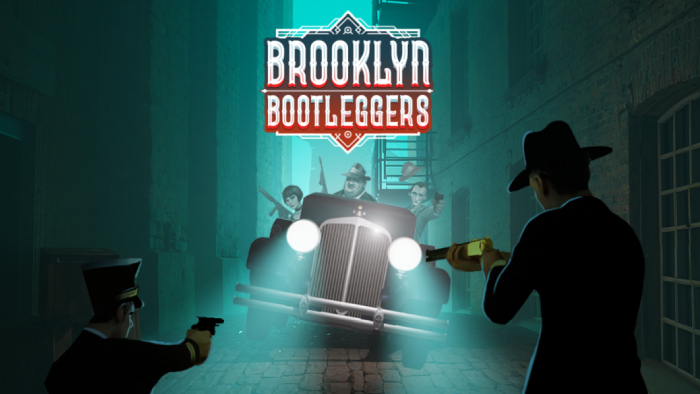 PLAY FOR REAL MONEY
Rated 93 of 100%
welcome bonus
200%/€1000 + Free Bonus Feature
Brooklyn Bootleggers Slot Review
Step into the illicit underworld of Brooklyn Bootleggers!
Slot Information
Provider: Quickspin
Return to Player: 96.25%
Volatility/Variance: Medium High
Progressive Slot:
Slot type:
Rows: 3
Reels: 5
Paylines: 10
Slot Layout: 5x3
Slot Features
Minimum Bet: $0.20
Maximum Bet: $100
Maximum Win: $1000000
Available: Android, IOS, Windows
Other key facts
Date Launched: 14 July 2023
Theme:
Jackpot:
Gamification:
Special Symbols:
Good sides
+ Thrilling Mobster Theme
+ Lock Up Bonus Feature
+ Tip Off Free Spins
Weaknesses
- Lack of a Progressive Jackpot
Play Brooklyn Bootleggers Slot for Real money
Rated 93 of 100%
welcome bonus
200%/€1000 + Free Bonus Feature
Rated 91 of 100%
INTRO TO THE BROOKLYN BOOTLEGGERS SLOT
Brooklyn Bootleggers is a thrilling video slot that takes players back to the era of prohibition and the notorious bootlegging trade. With its vibrant visuals and engaging gameplay, this slot promises an immersive experience filled with excitement and rewards.
BROOKLYN BOOTLEGGERS SLOT ONLINE
Available for online play, Brooklyn Bootleggers offers a convenient and accessible gaming experience. Whether you're on your desktop or mobile device, you can enjoy this slot anytime and anywhere. The user-friendly interface and seamless navigation make it easy for both novice and experienced gamblers to dive into the action.
BROOKLYN BOOTLEGGERS SLOT RETURN TO PLAYER – RTP – 96.25%
The return to player (RTP) of Brooklyn Bootleggers is an impressive 96.25%. Meaning that, on average, players can expect a reasonable return on their stake over time. The game offers a good balance between rewarding prizes and maintaining an element of risk, keeping gamblers entertained and engaged.
WHAT ARE MULTILINE SLOTS?
Brooklyn Bootleggers is a multiline slot, which means it offers multiple ways to win. Instead of traditional paylines, this slot features ten ways to create winning combinations. This innovative approach enhances the excitement by allowing wins to be formed by matching symbols on adjacent reels, regardless of their specific positions.
BROOKLYN BOOTLEGGERS SLOT REVIEW
Brooklyn Bootleggers is a visually stunning slot with its detailed graphics and authentic 1920s theme. The slot holds five reels, three rows, and a variety of bonus features, including multiple free spins, wilds, and multipliers. The fast-paced gameplay and immersive soundtrack strikes an atmosphere that truly captures the spirit of the Prohibition era. With its high RTP and numerous chances to win, this slot offers an exhilarating and rewarding gaming experience.
BROOKLYN BOOTLEGGERS SLOT PAYTABLE
The paytable in Brooklyn Bootleggers is packed with thematic symbols, including gangsters, police officers, whiskey bottles, and more. Each symbol has its own value, and on the paytable, you can find the payouts for different combinations. Wild symbols and scatters also play a crucial role in triggering bonus features, leading to bigger wins and more excitement.
BROOKLYN BOOTLEGGERS SLOT SYMBOLS EXPLAINED
The symbols in Brooklyn Bootleggers represent various aspects of the bootlegging trade. The higher-paying symbols include gangsters, and glamorous ladies, while the lower-paying symbols feature the card symbols designed according to the theme. The wild symbol, represented by the sinister man, can repalce other symbols to create winning combinations, while the scatter symbol, which is represented by the prohibition symbol, triggers the game's free spins feature, unlocking even greater winning potential.
HOW TO PLAY THE BROOKLYN BOOTLEGGERS SLOT
Playing Brooklyn Bootleggers is a pretty simple process. After setting your desired bet amount, you simply hit the spin button, cross your fingers and wait for big winning combinations to land. The game offers customizable autoplay options for added convenience.
Pay attention to the free spins feature, which can be triggered by landing three or more of the sinister man symbols, offering an opportunity for big wins. With its intuitive controls and exciting gameplay, Brooklyn Bootleggers ensures an enjoyable experience for all players.
BROOKLYN BOOTLEGGERS SLOT ONE-LINE BETTING STRATEGY
While there's no guaranteed winning strategy, one effective approach in Brooklyn Bootleggers is to adjust your bet size strategically. By focusing on a single payline, you can maximize your chances of hitting winning combinations. This strategy allows for more controlled gameplay and can be especially useful for gamblers who prefer lower-risk betting.
OUR 100 SPINS CHALLENGE ON BROOKLYN BOOTLEGGERS SLOT
We took on the 100 Spins Challenge on Brooklyn Bootleggers to test its potential. During our playthrough, the slot showcased its exciting features and delivered a mix of small and moderate wins. The bonus features, including multiple free spins and multipliers, added extra thrill and boosted our overall winnings. While results may vary, this challenge highlighted the slot's entertaining gameplay and potential for rewarding sessions.
DOES BROOKLYN BOOTLEGGERS SLOT WORK ON MOBILE?
Yes, Brooklyn Bootleggers is fully optimized for mobile play. Quickspin has ensured that players can enjoy this slot on their smartphones and tablets without compromising on quality or features. The game runs smoothly on mobile devices, allowing for a seamless gaming experience on the go.
TRY THE FREE PLAY MODE
Before diving into real money play, it's advisable to try Brooklyn Bootleggers in free-play mode. This allows you to familiarize yourself with the gameplay, bonus features, and paytable without risking your own funds. It's a great opportunity to explore the slot's mechanics and decide if it suits your preferences before making any financial commitments.
HOW TO WIN AT BROOKLYN BOOTLEGGERS SLOT
Winning on Brooklyn Bootleggers is a combination of luck and effective bankroll management. While there are no guaranteed winning strategies for video slots, you can increase your chances by setting a budget, choosing an appropriate bet size, and utilizing the slot's bonus features wisely. The game's high RTP and various bonus rounds provide opportunities for significant wins, so it's crucial to play responsibly and enjoy the experience.
BONUS FEATURES AND FREE SPINS
Brooklyn Bootleggers offers an array of enticing bonus features. The Free Spins feature is enabled by collecting three or more sinister man symbols, and it rewards players with a generous number of free spins. During this feature, additional wild symbols and multipliers come into play, boosting your winning potential. The bonus features add excitement and depth to the gameplay, making every spin an opportunity for big rewards.
BROOKLYN BOOTLEGGERS SLOT VOLATILITY
Brooklyn Bootleggers is a medium to high volatility slot. This means that wins may be less frequent, but when they occur, they tend to be more substantial. The game's volatility suits players who enjoy a balance between smaller, regular wins and the possibility of hitting larger payouts. It's essential to manage your bankroll accordingly and be prepared for both winning and losing streaks.
OUR CONCLUSION ON THIS SLOT REVIEW
Brooklyn Bootleggers by Quickspin is a captivating slot that captures the spirit of the Prohibition era. With its immersive visuals, engaging gameplay, and exciting bonus features, this slot provides a thrilling gaming experience. The medium to high volatility adds an extra layer of anticipation, and the mobile compatibility ensures you can enjoy this exciting slot wherever you go.
While luck plays a significant role, careful betting strategies and an understanding of the bonus features can enhance your chances of winning. Overall, Brooklyn Bootleggers offers a well-rounded package of entertainment and potential rewards.
BROOKLYN BOOTLEGGERS SLOT: FREQUENTLY ASKED QUESTIONS
Is it possible to trigger Big Wins in Brooklyn Bootleggers Slot?
Brooklyn Bootleggers has the potential to deliver big wins through its bonus features, including free spins and multipliers. With its medium to high volatility, players can experience thrilling moments and substantial payouts during their gameplay. The maximum win on this game is x10000.
What makes Brooklyn Bootleggers Slot so popular among players?
Brooklyn Bootleggers is popular due to its immersive theme, stunning visuals, and engaging gameplay. The combination of its Prohibition-era setting, exciting bonus features, and the chance to win significant rewards make it a favorite among slot enthusiasts.
How can you earn Free Spins while playing Brooklyn Bootleggers Slot?
To trigger the Free Spins feature in Brooklyn Bootleggers, you need to collect three or more prohibition budge symbols on the reels. This will activate a generous number of free spins, during which additional wilds and multipliers can further enhance your winning potential.
Can you use Bonus Money to play Brooklyn Bootleggers Slot?
Yes, many online casinos allow players to use the bonus money to play Brooklyn Bootleggers. However, it's important to check the terms and conditions of the specific casino and bonus offer to ensure that this slot is eligible for bonus play.
What is the inspiration behind the name of Brooklyn Bootleggers Slot?
The slot is named Brooklyn Bootleggers because it draws inspiration from the Prohibition era in Brooklyn, New York, when the illicit alcohol trade and bootlegging were rampant. The theme of the game revolves around this historical period, showcasing gangsters, police officers, and the underground world of bootlegging.
Is Brooklyn Bootleggers Slot available on mobile devices?
Yes! Brooklyn Bootleggers is a mobile slot that delivers endless entertainment on the move.
The Author
Carefully developed by top-tier mixologists, Casino Colada shakes the iGaming world in search of the perfect casino cocktail. Fully understanding that great ingredients make delicious recipes, our staff goes above and beyond in analyzing every single casino in great detail, so that you know what's on the menu. The Colada Seal of Approval will be your guide in the hottest casino bar in town, where our world-famous Martinis are served shaken...not stirred!