Everest Slot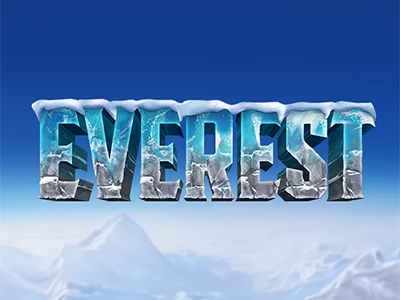 PLAY FOR REAL MONEY
Rated 94 of 100%
welcome bonus
100%/375€+100FS
Take on Mount Everest at win up to 28,600x your bet!
Slot Information
Provider:
Return to Player: 96%
Volatility/Variance: High
Progressive Slot:
Slot type:
Rows: 4
Reels: 10
Paylines: 10000
Slot Layout: 4x10
Slot Features
Minimum Bet: $0.1
Maximum Bet: $30
Maximum Win: $28600
Available: Android, IOS, Windows
Other key facts
Date Launched: 24 September 2023
Theme:
Jackpot:
Gamification:
Special Symbols:
Good sides
+ Up to 100000 paylines
+ Bonus Wheel
+ Huge wins
Play Everest Slot for Real money
INTRO TO EVEREST SLOT
Imagine the thrill of standing at the highest point on Earth, gazing down upon the vast expanse below, knowing you're literally above the rest of the world. Mount Everest is the pinnacle of such achievements for mountaineers, presenting an awe-inspiring challenge many only dream of conquering. However, not everyone is cut out for the arduous climb or equipped to face the perilous elements of this towering giant. Enter the "Everest Slot" by Four Leaf Gaming, an online gaming experience that brings the sensation of scaling this magnificent peak right to your fingertips. So, while retrieving a TV remote might be your most taxing physical activity, you can still embark on a virtual ascent to the top of the world, without ever leaving the comfort of your couch.
EVEREST ONLINE
Four Leaf Gaming introduces an immersive slot gaming experience with its Everest Slot, taking players on a digital ascent like no other. The game design showcases an intriguing layout with 5 reels that can expand between 4 to 10 rows, offering dynamic gameplay. What truly stands out is the incredible number of paylines, boasting up to a staggering 100,000, providing ample opportunities for wins. And for those who aim for the summit in their rewards, Everest Slot promises a mountainous max win of 28,600x your bet. With such rich features, this slot doesn't just recreate the thrill of scaling the world's highest peak but also offers a chance at achieving colossal rewards.
EVEREST SLOT RETURN TO PLAYER – RTP – 96%
With an impressive Return to Player (RTP) value of 96%, the Everest Slot by Four Leaf Gaming stands out as a favorable choice for gamers. This RTP percentage, which is notably above the industry average, indicates the potential return a player can expect over a prolonged period of gameplay. In simpler terms, for every $100 wagered, players can anticipate a return of approximately $96 on average. Adding to its transparency and reliability, there are no adjustable RTP ranges in the game, ensuring a consistent gaming experience. Moreover, with a hit frequency of 33%, players can look forward to regular and potentially lucrative engagements with this slot. The Everest Slot not only captures the essence of a daring mountain expedition but also presents favorable odds for its adventurers.
WHAT ARE MULTILINES SLOTS?
Multiline slots are a game-changer in the world of online casino gaming, offering players a myriad of ways to win. Unlike traditional slot machines with a single payline running straight across the middle of the reels, multiline slots feature multiple paylines that can be in various patterns—horizontal, vertical, diagonal, or even zigzag. This amplifies the excitement, as players have numerous opportunities to match symbols and achieve wins on a single spin. One of the key advantages of multiline slots is the increased engagement and anticipation they offer, as each spin brings a multitude of possibilities. The Everest slot, with its staggering up to 100,000 paylines, exemplifies the pinnacle of multiline gaming. Such an extensive array of paylines means that players are constantly on the edge of their seats, eagerly anticipating where the next winning combination might land. In essence, multiline slots redefine the gaming experience by introducing heightened thrill and greater chances of hitting a winning streak.
EVEREST SLOT REVIEW
Dive deep into the realm of the Everest Slot and find yourself transported to the majestic slopes and icy peaks of the world's highest mountain. Four Leaf Gaming has meticulously crafted this game, ensuring every detail echoes the grandeur and raw beauty of Mount Everest. The graphics are nothing short of breathtaking, with crystal-clear visuals capturing the snow-blanketed mountainsides, jagged terrains, and the ethereal play of light at high altitudes. The design is intuitive and user-friendly, ensuring players can navigate the game with ease. As for the theme, it's an adventurous journey that mirrors the challenges and exhilarations of an actual ascent up Everest. Each symbol, animation, and sound effect has been curated to immerse players into this frosty, perilous, yet awe-inspiring world. The Everest Slot isn't just a game; it's a visual and thematic masterpiece that beckons players to embark on an unparalleled digital expedition.
EVEREST SLOT PAYTABLE
The Everest Slot, designed by Four Leaf Gaming, features an engaging paytable, especially highlighted by its premium mask symbols. These coveted symbols can greatly enhance your winnings, offering rewards ranging from 2 to 10 times your stake when you line up five of a kind. Enhancing the gaming experience is the Avalanche mechanic, a dynamic feature where winning symbols vanish, making way for a cascade of new and/or existing symbols from above. This mechanic not only keeps the gameplay fluid and exhilarating but also provides continuous opportunities for players to strike winning combinations. Additionally, the Climbing Wilds add another layer of intrigue. Beyond their traditional role of substituting for other symbols to enhance winning chances, these Wilds amplify the gameplay by expanding the grid. With each appearance, they can extend the grid by 2 or 3 rows, offering even more possibilities for wins. The Everest Slot's paytable is not just about numbers; it's a journey of continuous surprises and expanding opportunities.
EVEREST SLOT SYMBOLS EXPLAINED
Navigating the Everest Slot involves understanding the intricacies of its symbols and mechanics. At the heart of this game, winning combinations are formed when identical pay symbols align on adjacent reels, starting from the leftmost reel. Following a win, the game introduces a dynamic element: the victorious symbols vanish, making way for symbols stationed above them to drop down and occupy the vacant spaces. This reshuffling is accompanied by the addition of an extra row to the grid, allowing it to expand up to a towering 10 rows. This Avalanche-inspired mechanism of cascading wins persists until the wins cease, after which the grid reverts to its base form. On the lower end of the pay spectrum, the 10-through-Ace card symbols bring in modest wins, offering payouts ranging from 0.4 to 1.2 times the stake for five of a kind. In contrast, the more illustrious mask symbols, representing the game's high-value icons, can award between 2 to 10 times the bet for five on a reel. Enhancing these dynamics are the Climbing Wilds, adeptly stepping in for any pay symbol. Any win that ropes in a Climbing Wild triggers an elevation in the grid, adding 2 or 3 rows, thereby enriching the gameplay with heightened possibilities. The Everest Slot's symbols, therefore, weave a tapestry of intricate mechanics and bountiful rewards.
HOW TO PLAY THE EVEREST SLOT
Starting your journey on the Everest Slot is both intuitive and engaging. Before spinning the reels, you'll want to set your preferred bet size. This can typically be done using on-screen controls, where you select your coin value and the number of coins or paylines you wish to activate. Once your bet is set, simply hit the spin button to set the reels in motion. As the symbols roll and settle, wins are determined by aligning identical symbols on adjacent reels from the leftmost side. Key to the Everest experience are its unique features like the Avalanche mechanic, where winning symbols vanish to make room for new ones, potentially triggering successive wins. The Climbing and Avalanche Wilds play pivotal roles, offering multipliers and enhancing win potential. As you continue to spin, keep an eye out for bonus symbols and features that can further boost your winnings, such as free spins or the Fortune Maker. It's always a good idea to familiarize yourself with the game's paytable, which will provide detailed information about symbol values and bonus features. Whether you're a seasoned player or new to slots, the Everest Slot promises an adventure filled with excitement, strategy, and the thrill of potential rewards.
OUR 100 SPINS CHALLENGE ON EVEREST SLOT
Diving into the Everest Slot, we decided to embark on a 100 spins challenge to truly gauge its gameplay and features. As the reels spun, the captivating graphics and ambient soundscapes drew us into the Himalayan adventure. Throughout our challenge, the Avalanche mechanic consistently reshuffled the board, creating dynamic opportunities for consecutive wins. The Climbing and Avalanche Wilds sporadically graced our spins, proving their worth in amplifying rewards. While the coveted free spins feature didn't trigger as frequently as we'd hoped, the journey was filled with a mix of smaller rewards and a few substantial wins, perfectly echoing its medium volatility. By the end of our 100 spins, Everest Slot showcased a well-balanced play, proving both entertaining and rewarding.
DOES EVEREST SLOT WORK ON MOBILE?
In today's digital age, adaptability to mobile platforms is crucial, and the Everest Slot does not disappoint. Crafted with modern technology, the game is seamlessly optimized for mobile play. Whether you're on an Android smartphone, an iPhone, or a tablet, Everest Slot scales beautifully, retaining its captivating visuals and smooth gameplay. The touch interface is intuitive, with controls designed for easy navigation on smaller screens. Players can enjoy the Everest adventure on-the-go, ensuring that the thrilling experience of chasing those peaks and rewards is always just a tap away.
TRY THE FREE PLAY MODE
For those hesitant to dive straight into the real-money version of the Everest Slot or simply wanting to get a feel for its mechanics, the Free Play Mode is a boon. This demo version allows players to experience all the features, graphics, and nuances of the game without risking any capital. It's an excellent avenue for strategy testing, getting acquainted with the game's symbols, or simply enjoying the thrill of the slot without any financial commitments. The Free Play Mode mirrors the real-money version in every aspect, ensuring players get an authentic taste of the Everest adventure. Whether you're a novice wanting to learn or a seasoned player testing a new strategy, this mode provides the perfect playground.
HOW TO WIN AT EVEREST SLOT
Navigating the Everest Slot requires a blend of strategy, patience, and understanding of its multifaceted gameplay mechanics. The foundation of winning lies in aligning identical symbols on adjacent reels, starting from the leftmost side. The Avalanche mechanic is crucial; winning symbols disappear, making room for new ones, and potentially creating successive wins with each spin. Expanding the reel to its maximum 10-row height not only brings the thrill of achieving a towering grid but also automatically triggers the sought-after free spins. Within these spins, Avalanche Wilds play a significant role. They not only replace regular symbols but also come with multipliers, which increase as the wilds cascade down the grid. Furthermore, the Climbing Wilds, which can augment the grid height, and the plethora of bonus features like the Bonus Booster and Fortune Maker, offer multiple avenues to amplify winnings. Key to optimizing wins is leveraging these features, understanding the value of each symbol, and strategically deciding when to gamble winnings for potential greater rewards. While luck remains an undeniable factor, being well-acquainted with the game's intricacies enhances the chances of scaling the lofty heights of rewards on the Everest Slot.
BONUS FEATURES AND FREE SPINS
Everest slot isn't just a mere reflection of an icy landscape; it's an avalanche of bonus features, each meticulously designed to enhance gameplay and elevate player's chances. The Avalanche Wilds, which can emerge at the pinnacle of any reel, aren't ordinary wilds; they wear multiple hats. Not only do they substitute for regular symbols, but they also come bearing multipliers, magnifying the win. As wins are celebrated, these wilds cascade downwards, with their multipliers getting beefed up depending on the cascading steps. If no symbols below emerge as victors, the entire reel takes a step down, pushing the Avalanche Multiplier a notch up. The free spins round in Everest is equally thrilling. Securing 3, 4, or 5 free spin symbols entitles players to 10, 12, or 14 free spins, respectively. But that's not the sole avenue to free spins; stretching the reels to a towering 10 rows also unleashes them, and any victory post that adds an extra spin. These spins are a gala on the full-fledged 5×10 grid, where Avalanche Wilds make recurrent appearances, intensifying their multipliers in a manner parallel to the base game, but with an added twist. They not only amplify their individual multiplier but also uplift the multiplier for the entire reel, a value that remains untouched between spins.
In the kaleidoscope of features, the Bonus Booster offers an intriguing gamble. Players can risk some or all free spins in their kitty to possibly bag 1, 2, or 3 additional spins, with the ceiling being 22 spins. Following a bountiful free spins round, if one's loot crosses a certain threshold, the Fortune Maker is set into motion, post the free spins finale. It presents a gripping gamble opportunity, where players can risk a portion or their entire win in a Plinko-esque ball-drop feature. The Bonus Replay is yet another gamble, but this one is directly tied to one's free spin wins. A win offers another shot at the free spins round, while a loss redirects players to the base game. The Super Spinner feature is a delightful surprise that gets triggered when players accumulate coin overlays in the base game. It's a smorgasbord of rewards, be it cash prizes, more free spins, entry into the Fortune Maker, or a ticket to the Nitro Spins. The latter supercharges the game, making both Climbing Wilds and Avalanche Wilds more frequent visitors, ratcheting up the appearance of free spin scatters, ensuring coins are gathered more frequently, and heightening the odds of the Super Spinner. But Nitro Spins come at a premium, either inflating the bet by half or costing 4 coins apiece. For those eager to fast-track their experience, the Game & Fortune button is the go-to. It's a portal to directly initiate Nitro Spins, purchase free spins at 60 times the bet, or beckon the Super Spinner at a similar price. However, those collected coins can be a boon, potentially reducing the costs.
EVEREST SLOT VOLATILITY
In the vast landscape of online slots, the Everest Slot stands out with its medium volatility. Volatility, or variance as it's sometimes called, gives players insight into the risk associated with a particular slot game and the nature of potential payouts. A medium volatility slot like Everest strikes a balance between high and low volatility games. This means that players can expect a mix of smaller, more frequent wins and the occasional larger payout. It's a middle-ground that appeals to a broad range of players, as it offers a relatively stable gaming experience without long dry spells, but still holds the promise of substantial wins. In the context of Everest, this medium volatility complements its myriad of features, ensuring that while the peaks of rewards might not be as sky-high as in high volatility slots, they're still significant and come with a lesser degree of risk. Players can thus enjoy a more predictable gaming session, with the excitement of the Everest adventure always alive.
OUR CONCLUSION ON THIS SLOT REVIEW
After an in-depth exploration of the Everest Slot, our verdict is that it's a compelling offering in the world of online slots. The game seamlessly marries captivating visuals with a rich tapestry of features, ensuring both novice and seasoned players are continuously engaged. Its medium volatility strikes a fine balance, offering both regular rewards and the allure of substantial wins, echoing the unpredictable nature of mountain expeditions. The Avalanche and Climbing Wilds mechanics, alongside the myriad of bonus features, bring layers of depth and strategy to each spin. The slot's adaptability to mobile platforms ensures players can embark on the Everest adventure anytime, anywhere. And the inclusion of a Free Play Mode is testament to its player-centric design, allowing for risk-free exploration. In summary, the Everest Slot by Four Leaf Gaming is a well-rounded, immersive experience, deserving of attention from any slot enthusiast. Whether you're in it for the thrill, the rewards, or the sheer joy of gameplay, Everest promises a memorable journey.
EVEREST SLOT: FREQUENTLY ASKED QUESTIONS
Can Everest Slot Deliver Big Wins?
Absolutely! The Everest Slot is designed with features and multipliers that can lead to substantial payouts. Given its medium volatility, players can anticipate a balanced gameplay experience that combines frequent smaller wins with the potential for sizable jackpots, especially when bonus features come into play.
What Makes Everest Slot so Popular?
The Everest Slot's appeal lies in its immersive theme, which takes players on a thrilling journey up the world's highest peak. The captivating graphics, combined with unique gameplay mechanics like the Avalanche feature and Climbing Wilds, ensure a dynamic and engaging experience. Moreover, the potential for big wins and the array of bonus features keep players returning for more adventures.
How to Trigger Free Spins in Everest Slot?
To activate the free spins in the Everest Slot, players typically need to land a certain number of free spin symbols on the reels. Acquiring three or more of these symbols usually triggers the free spins feature. Additionally, other in-game actions, like expanding the reel grid to its maximum height, can also award players with free spins.
Playing Everest Slot with Bonus Money?
Many online casinos provide players with bonus money or promotional credits. These can often be utilized on a variety of slots, including Everest. Using this bonus money, players can enjoy the game without wagering their own funds. However, it's essential to be aware of any associated terms and conditions, such as wagering requirements or withdrawal restrictions, when using bonus money.
The Story Behind the Name "Everest" Slot
The name "Everest" immediately conjures images of the world's tallest mountain, symbolizing challenge, adventure, and unparalleled heights. Naming the slot after this iconic peak hints at the game's grandeur and the exhilarating journey it offers players. The title captures the essence of ascending to the pinnacle, suggesting that in the game, as in mountaineering, perseverance and strategy can lead to great rewards. The allure of the mountain and the promise of thrilling gameplay make the name "Everest" a fitting title for this slot game.