Slime Party Slot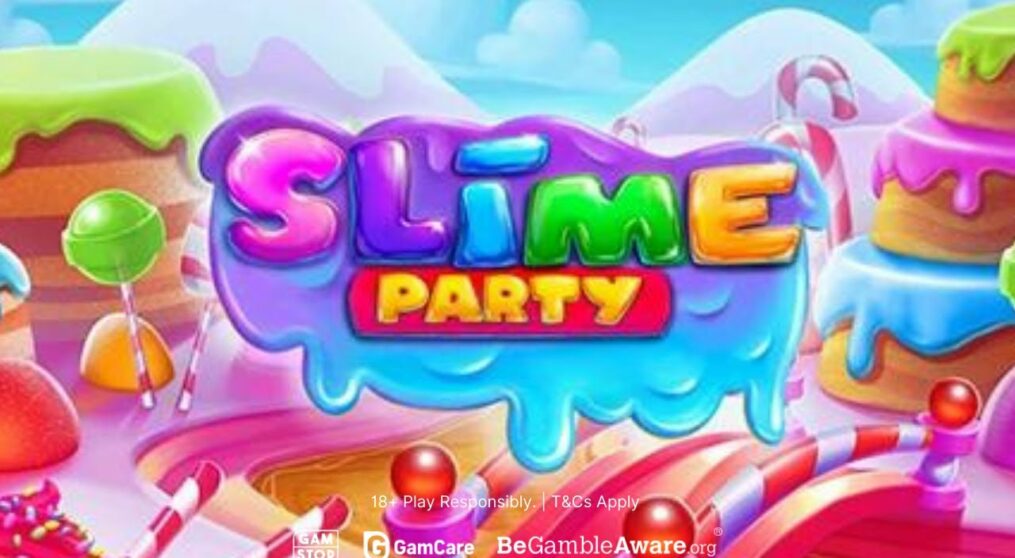 PLAY FOR REAL MONEY
Rated 93 of 100%
welcome bonus
200%/€1000 + Free Bonus Feature
New spooky slot by Habanero! Get Free Spins, Huge Wins and More!
Slot Information
Provider: Habanero
Return to Player: 98.1%
Volatility/Variance: High
Progressive Slot:
Slot type:
Rows: 5
Reels: 4
Paylines: 1
Slot Layout: 5X4
Slot Features
Minimum Bet: $0.20
Maximum Bet: $5000
Maximum Win: $48900
Available: Android, IOS, Windows
Other key facts
Date Launched: 30 November 2023
Theme:
Jackpot:
Gamification:
Special Symbols:
Good sides
+ PAY ANYWHERE MECHANIC
+ FREE SPINS FEATURE
+ HUGE AVAILABLE WINS UP TO X48900
Play Slime Party Slot for Real money
Rated 93 of 100%
welcome bonus
200%/€1000 + Free Bonus Feature
Rated 91 of 100%
INTRO TO SLIME PARTY ЅLОT
Welcome to Casino Colada's exclusive review of the Slime Party slot, a thrilling new creation from Habanero. Set to make its debut on October 17, 2023, this slot is poised to revolutionize the online casino scene. With its lively and whimsical theme, featuring a cast of vibrant slimes, it's sure to enchant both newcomers and seasoned players alike. Get ready to be wowed by cutting-edge graphics and animations that transform this game into a visual extravaganza. Casino Colada is excited to present this review, where we'll walk you through the incredible features and opportunities that the Slime Party slot has in store, ensuring that your gaming experience with us is top-notch.
SLIME PARTY SLOT ONLINE
The Slime Party slot is all set to deliver an exceptional online gaming experience that's bound to leave a lasting impression. Featuring a distinctive "all symbols pay anywhere" mechanism, it opens up a world of opportunities for players to secure wins, a true delight for any online casino aficionado. However, what truly distinguishes this game is its Wild multipliers that replicate upon landing. As these multipliers accumulate, they have the potential to yield monumental payouts, transforming your gameplay into a slime-infused celebration. Brace yourself for an unforgettable journey into the world of gaming as we delve deeper into the exciting features that Slime Party has in store for you.
SLIME PARTY RETURN TO PLAYER – RTP – 98.10%
When it comes to online slots, the Return to Player (RTP) holds immense significance for players seeking to optimize their winnings. In the world of Slime Party, the RTP offers a range, beginning at 86.47% and reaching an impressive 98.10%. This diversity injects an exhilarating dimension into the gameplay, allowing you to handpick your desired level of risk and the corresponding potential rewards. Casino Colada strongly advises you to thoughtfully select your RTP setting, ensuring your gaming experience aligns perfectly with your preferences.
WHAT ARE PAYLINE SLOTS?
Slime Party takes a distinctive approach to paylines. In this slot adventure, every symbol has the potential to pay out regardless of where it appears on the reels. This means you're not confined to the usual payline structures; any winning combination that aligns anywhere on the grid can lead to a payout. At Casino Colada, we appreciate the allure of this flexibility, as it not only opens the door to numerous winning possibilities but also adds an extra layer of excitement to each spin. With Slime Party, the sky's the limit – it's all about landing those gooey symbols anywhere for your shot at striking it big.
SLIME PARTY SLOT PAYTABLE
The paytable in Slime Party is your go-to source for all the vital information about the game's symbols and their corresponding payouts. A solid grasp of the paytable is essential for making informed choices during your gaming session. In Slime Party, you'll come across an array of colorful and whimsical symbols that perfectly complement the game's theme. Casino Colada suggests a thorough exploration of the paytable to identify the high-paying symbols and those that trigger special features. Keep a keen eye out for those mischievous wild symbols – they replicate upon landing and have the potential to lead to even more substantial wins. The paytable holds the key to unlocking the mysteries of this exciting slot game, so let's dive in and discover more about these captivating symbols.
SLIME PARTY SYMBOLS EXPLAINED
Slime Party boasts an ensemble of charming and eccentric symbols that infuse the game with character. From playful slimes to other thematic icons, the visual experience is an absolute delight. Familiarizing yourself with these symbols and their roles is pivotal for success in this slot. The star of the show is the wild symbol, as it not only replicates upon landing but also carries multipliers that stack, potentially resulting in substantial payouts. Keep an eye out for these lively critters as they frolic across the reels. As we journey further through this review, we'll delve deeper into these symbols and unveil how they contribute to the overall joy and rewards of Slime Party. Stay tuned for more insights into this endearing and lucrative slot game.
HOW TO PLAY THE SLIME PARTY SLOT
Playing Slime Party is a simple and enjoyable endeavor. Casino Colada is here to provide you with a step-by-step guide, ensuring that you embark on your gaming journey with confidence. To get started, select your preferred bet amount and customize your desired level of risk by adjusting the game's RTP, which can vary from 86.47% to an enticing 98.10%. Once you've fine-tuned your settings to your liking, it's time to set the vibrant reels in motion and witness the slimes spring to life. Thanks to the unique feature that allows all symbols to pay anywhere on the reels, you'll find ample opportunities to land those winning combinations. Keep a vigilant eye out for the wild symbols, as they replicate upon landing and can trigger thrilling multipliers. Slime Party ensures a delightful and user-friendly gaming experience that caters to both newcomers and seasoned players. In the upcoming sections, we'll delve deeper into the gameplay and explore how you can make the most of your time with this slot. So, let's set those reels in motion and uncover the slimy surprises that await!
OUR 100 SPINS CHALLENGE ON SLIME PARTY ЅLОT
As part of our Casino Colada review, we took the Slime Party slot for a spin in our 100 Spins Challenge. This challenge serves as a comprehensive assessment of the game's performance and the overall player experience. Our goal was to gauge how the slot measured up and the level of excitement it could deliver over 100 spins. The results were nothing short of thrilling. With the unique feature of all symbols paying anywhere on the reels, we encountered numerous opportunities to secure wins. The wild symbols, with their replication and accompanying multipliers, were particularly exhilarating, offering the potential for substantial payouts.
DOES SLIME PARTY ЅLОT WORK ON MOBILE?
In today's age of modern gaming, accessibility across various devices, including mobile, is paramount. Casino Colada recognizes the importance of convenience and accessibility for players who prefer to enjoy gaming on the go. The great news is that Slime Party is fully compatible with mobile devices. Whether you're using a smartphone or a tablet, you can relish the gooey delight and exhilarating gameplay of Slime Party on your mobile device. The game's visual quality and features remain top-notch, ensuring that the thrill of the game is at your fingertips, no matter where you find yourself. The mobile gaming experience is seamless and user-friendly, guaranteeing that you can indulge in Slime Party while on the move. Stick with us as we uncover more about the game's features and how they translate seamlessly into mobile play.
TRY THE FREE PLAY MODE
Before immersing yourself in the real-money excitement of Slime Party, Casino Colada strongly encourages you to try out the Free Play Mode. This presents an excellent opportunity to acquaint yourself with the game, comprehend its mechanics, and savor the slime-themed gameplay without any financial risk. In Free Play Mode, you can fully explore all the game's features, experiment with different betting strategies, and witness the wild symbols in action. It's the perfect way to build confidence and ensure that you're fully prepared to maximize your enjoyment when you decide to play for real money. So, whether you're a newcomer eager to learn the ropes or a seasoned player looking to get a feel for the game, the Free Play Mode in Slime Party serves as your ideal starting point. We'll continue our journey through Slime Party's features and opportunities in the upcoming sections, so stay tuned for more valuable insights.
HOW TO WIN AT SLIME PARTY ЅLОT
Securing wins in Slime Party calls for a blend of luck and strategy. While the game's playful theme and whimsical graphics contribute to the fun, there are vital strategies that can increase your chances of landing those gooey wins. The "all symbols pay anywhere" feature is a significant advantage. It means you're not confined to specific paylines, providing you with an abundance of opportunities to land winning combinations. Pay close attention to the wild symbols, as they replicate upon landing and bring along multipliers, potentially resulting in substantial payouts. Selecting the right RTP setting that aligns with your risk tolerance is equally crucial. You have the flexibility to adjust the RTP between 86.47% and 98.10%, giving you control over the game's volatility and potential rewards.
BONUS FEATURES AND FREE SPINS
Slime Party isn't just about the base game; it's brimming with exhilarating bonus features that can elevate your gaming adventure to new heights. Casino Colada is your trusted companion to unravel these special features and their impact on your chances of hitting those big wins. A standout feature of this slot is the chance to score up to 100 Free Games. Within these Free Games, the excitement escalates to its peak as Wild multipliers join the game multiplier for the remaining free rounds. This implies that every spin during the Free Games can lead to significant winnings, making it one of the most exhilarating aspects of Slime Party. Furthermore, the Money Re-Spin feature shines brightly. It locks all money symbols in place and continues to spin until no more symbols land. If you manage to lock in all symbols, your winnings are boosted by an impressive x10. This feature injects an extra layer of thrill and winning potential into the game.
SLIME PARTY ЅLОT VOLATILITY
Understanding the volatility of a slot game is paramount for managing your gaming experience and setting realistic expectations. In the realm of Slime Party, the volatility is classified as "Very High." What does this mean for you as a player? A slot with Very High volatility, such as Slime Party, offers the potential for substantial wins, although they may occur less frequently compared to low or medium volatility games. This translates to moments of intense excitement and significant payouts, but it may also entail periods of smaller wins or occasional losses. Casino Colada suggests adapting your betting strategy and bankroll management to align with the game's volatility. It's a balancing act between risk and reward, and a firm grasp of this element can help you savor your gaming sessions to the fullest.
OUR CONCLUSION ON THIS SLOT REVIEW
In conclusion, Slime Party, crafted by Habanero, is a vibrant, whimsical, and potentially rewarding addition to the world of online slots. Casino Colada's review has delved deeply into this fresh release, and we've been thoroughly impressed by its features and gameplay. The game's distinctive "all symbols pay anywhere" feature opens up more avenues for winning combinations, and the Wild multipliers, which replicate upon landing, introduce a thrilling twist to the gameplay. The opportunity to win up to 100 Free Games, coupled with the exciting Money Re-Spin feature, adds a layer of anticipation and enjoyment to the overall experience. Slime Party's flexibility in adjusting the RTP and its compatibility with mobile devices make it a versatile choice for players with diverse preferences. It's important to note, though, that the game's Very High volatility may result in bankroll fluctuations, so prudent betting and managing your expectations are key. Whether you're a slot enthusiast seeking entertainment or chasing significant rewards, Slime Party promises a delightful gaming journey. We strongly recommend giving it a whirl, whether in Free Play Mode to get a taste or in real-money play for the full experience. With its playful theme, unique features, and the potential for substantial wins, Slime Party is poised to captivate online casino aficionados. Mark your calendar for its release on October 17, 2023, and let the slime-filled celebration commence!
SLIME PARTY ЅLОT: FREQUENTLY ASKED QUESTIONS
What is the release date of Slime Party by Habanero?
Slime Party is scheduled for release on October 17, 2023, offering players a chance to dive into its gooey world of fun and potential rewards.
How do I access the Free Play Mode in Slime Party?
To access the Free Play Mode, simply select the game and look for the option to play for free or in demo mode. This is a risk-free way to get a feel for the game without using real money.
What is the maximum win potential in Slime Party?
Slime Party's unique features offer the potential for substantial wins. During Free Games, with the addition of Wild multipliers, the winnings can reach exciting levels. The Money Re-Spin feature
Can I play Slime Party on my mobile device?
Yes, Slime Party is fully mobile-compatible. Whether you're using a smartphone or tablet, you can enjoy the game's vivid visuals and features on the go.
Is Slime Party suitable for players with different risk preferences?
Absolutely! Slime Party allows players to adjust the Return to Player (RTP) setting, ranging from 86.47% to 98.10%. This flexibility empowers you to choose your preferred level of risk and potential reward, making it suitable for a wide range of players.