Spellbinding Mystery Slot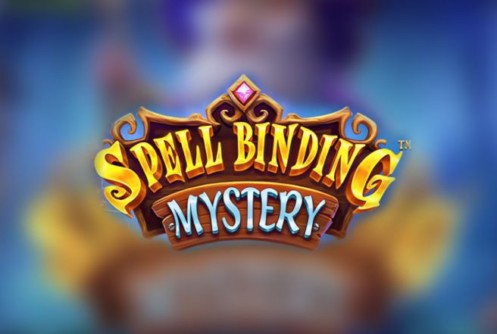 PLAY FOR REAL MONEY
Rated 94 of 100%
welcome bonus
100%/375€+100FS
Spellbinding Mystery Slot Review
Cast the secret spell to unlock massive win potential in Spellbinding Mystery™.
Slot Information
Provider: Pragmatic play
Return to Player: 96.04%
Volatility/Variance: High
Progressive Slot:
Slot type:
Rows: 7
Reels: 7
Paylines:
Slot Layout: 7x7
Slot Features
Minimum Bet: $0.20
Maximum Bet: $100
Maximum Win: $1000000
Available: Android, IOS, Windows
Other key facts
Date Launched: 14 July 2023
Theme:
Jackpot:
Gamification:
Special Symbols:
Good sides
+ Many Bonus Features and Free Spins
+ Magical Theme
+ Huge wins up to 10,000x your initial bet
Weaknesses
- High Volatility for beginners
Play Spellbinding Mystery Slot for Real money
INTRO TO THE SPELLBINDING MYSTERY SLOT
Spellbinding Mystery is a captivating online slot developed by Pragmatic Play. This mystical game takes players on a magical journey filled with symbols such as potions, wizard hats, runes, and scrolls. With its cluster pays mechanic and a range of enchanting features, Spellbinding Mystery offers the potential for massive wins. Let's delve deeper into this mesmerizing slot and discover its exciting elements.
SPELLBINDING MYSTERY SLOT ONLINE
Spellbinding Mystery is an online slot game designed with a 7×7 grid, creating a visually stunning gaming experience. The reels are filled with captivating symbols that add to the game's magical aura. As a cluster pays slot, players need to form matching adjacent symbols in clusters to achieve enchanting wins. With its mystical theme, vibrant graphics, and atmospheric sound effects, the Spellbinding Mystery slot creates an immersive gameplay experience.
SPELLBINDING MYSTERY SLOT RETURN TO PLAYER – RTP – 96.04%
The Return to Player (RTP) percentage of Spellbinding Mystery varies depending on the chosen mode of play. The default RTP is 96.04%, providing players with favorable odds for generating wins. However, it's worth noting that an alternative RTP of 95.05% or 94.02% may be available, depending on the operator. Players should check the game settings or paytable to confirm the specific RTP offered.
WHAT ARE MULTILINE SLOTS?
Spellbinding Mystery is not a multiline slot in the traditional sense. Instead, it employs a cluster pays mechanism. In this type of slot, players are rewarded for forming clusters of adjacent symbols, either vertically or horizontally. When matching symbols are grouped together in a cluster, they create winning combinations. This differs from multiline slots, where wins are typically based on specific paylines. The cluster pays mechanic in Spellbinding Mystery adds a unique and exciting element to the gameplay, offering players the chance to achieve multiple wins in a single spin.
SPELLBINDING MYSTERY SLOT REVIEW
Spellbinding Mystery is a highly volatile slot, offering players the potential for significant rewards. With its 7×7 grid layout, players can anticipate a thrilling gameplay experience filled with clusters of symbols and exciting features. The game incorporates various elements, including wild multipliers, Mystery symbols, free spins with repeating Mystery symbols, and even a bonus buy option. Pragmatic Play has successfully combined these features to create an engaging and magical slot experience.
SPELLBINDING MYSTERY SLOT PAYTABLE
The paytable in Spellbinding Mystery features a range of captivating symbols. The game includes four rune-like tokens in different colors as low-paying symbols, followed by higher-paying symbols such as green and pink potion bottles, a scroll, a wizard hat, and a bright green grimoire. The payouts for winning clusters range from 0.5 to 1.5 times the stake for 7-symbol clusters, up to 100 to 500 times the bet for a full-screen win with 49 symbols. The presence of a wild symbol further enhances the potential winnings, as it not only substitutes for regular symbols but can also apply random multipliers ranging from x1 to x5.
SPELLBINDING MYSTERY SLOT SYMBOLS EXPLAINED
In Spellbinding Mystery, the symbols reflect the mystical theme of the game. The rune-like tokens and potion bottles represent the low-paying symbols, while the scroll, wizard hat, and grimoire serve as the higher-paying symbols. The wild symbol, represented by a glowing blue staff, substitutes for regular symbols and can carry random multipliers, enhancing the potential for bigger wins. Additionally, Mystery symbols, represented by stars, transform into a randomly chosen regular symbol at the end of each spin, adding an element of surprise to the gameplay.
HOW TO PLAY THE SPELLBINDING MYSTERY SLOT
Playing Spellbinding Mystery is a straightforward and enjoyable experience. To get started, players need to set their desired bet amount, which can range from 0.20 to 100 credits. Once the bet is set, they can spin the reels and watch as the symbols cascade onto the grid. The goal is to form clusters of matching symbols, which will result in wins. The game incorporates various features, including wild multipliers and Mystery symbols, which can increase the chances of achieving bigger payouts. With its intuitive interface and user-friendly controls, Spellbinding Mystery provides an accessible gaming experience for both novice and experienced players alike.
SPELLBINDING MYSTERY SLOT ONE-LINE BETTING STRATEGY
While there is no specific one-line betting strategy that guarantees success in Spellbinding Mystery, players may choose to focus on specific clusters or symbols to increase their chances of winning. By closely monitoring the positions of the high-paying symbols or wild multipliers, players can strategically place their bets to optimize their potential payouts. However, it's important to remember that slots are games of chance, and outcomes are determined by random number generators, so no strategy can guarantee consistent wins.
OUR 100 SPINS CHALLENGE ON SPELLBINDING MYSTERY SLOT
Embarking on a 100 spins challenge on Spellbinding Mystery can be an exciting way to experience the game's features and potential. By playing a significant number of spins, players can gain a better understanding of the slot's mechanics, volatility, and bonus features. It also provides an opportunity to assess the frequency of wins and the overall excitement the game offers. The 100 spins challenge allows players to immerse themselves in the magical world of Spellbinding Mystery and witness the potential for substantial rewards.
DOES SPELLBINDING MYSTERY SLOT WORK ON MOBILE?
Pragmatic Play ensures that players can enjoy the enchanting experience of Spellbinding Mystery on various devices, including mobile phones and tablets. The game has been optimized for mobile play, allowing players to delve into its mystical realm while on the go. Whether using an iOS or Android device, players can enjoy seamless gameplay, captivating graphics, and all the features Spellbinding Mystery has to offer, regardless of their location.
TRY THE FREE PLAY MODE
For players looking to embark on a magical journey without any financial risk, Spellbinding Mystery offers a free-to-play mode. This mode allows players to experience the gameplay, features, and enchanting atmosphere of the slot without placing real-money bets. It provides an excellent opportunity to familiarize oneself with the mechanics, test different strategies, and get a feel for the game's volatility before deciding to play with real money. The free-to-play mode is a fantastic way to enjoy the captivating world of Spellbinding Mystery without any financial commitment.
HOW TO WIN AT SPELLBINDING MYSTERY SLOT
Winning in Spellbinding Mystery depends on luck and random chance, as is the case with all slot games. However, there are a few strategies that players can employ to enhance their overall experience. Managing their bankroll effectively and setting a budget for playtime can help ensure a more enjoyable gaming session. Additionally, taking advantage of the various features, such as wild multipliers and Mystery symbols, can increase the potential for more significant wins. It's crucial to remember that the outcome of each spin is determined by a random number generator, making winning entirely unpredictable.
BONUS FEATURES AND FREE SPINS
Spellbinding Mystery incorporates several exciting bonus features that add to the enchantment of the gameplay. One notable feature is the Mystery symbols, which transform into a randomly chosen regular symbol at the end of each spin. This can result in clusters of the same symbol, potentially leading to significant wins. Additionally, the free spins round is triggered by landing three scatter symbols on reels 2, 4, and 6, awarding players with 10 free spins. During free spins, any Mystery symbol that lands remains in place, and after each spin, all marked spots transform into Mystery symbols. Wilds in the free spins round always carry multipliers, further enhancing the potential for big rewards.
SPELLBINDING MYSTERY SLOT VOLATILITY
Spellbinding Mystery is classified as a highly volatile slot, boasting a volatility rating of 5 out of 5. This means that wins may occur less frequently but have the potential to be significant when they do hit. High volatility slots offer the possibility of larger payouts but require patience and a bankroll suited to withstand potential periods of low or no wins. Players should approach the game with the understanding that winning combinations may be less frequent but have the potential for substantial rewards.
OUR CONCLUSION ON THIS SLOT REVIEW
Spellbinding Mystery is a captivating online slot that combines a mystical theme with innovative features. While it may not overwhelm players with an extensive list of bonuses, it excels at making the most of its available elements. The inclusion of wild multipliers and Mystery symbols, particularly during the free spins round, enhances the gameplay and adds excitement to each spin. With its highly volatile nature and the potential for a maximum win of 10,000 times the bet, Spellbinding Mystery offers a thrilling and potentially rewarding experience for players seeking a touch of magic in their slot gaming.
SPELLBINDING MYSTERY SLOT: FREQUENTLY ASKED QUESTIONS
Is it possible to trigger Big Wins in Spellbinding Mystery Slot?
Spellbinding Mystery Slot has the potential to deliver big wins through its bonus features, including free spins and multipliers. The maximum bet you can place on Spellbinding Mystery Slot is 100, and the maximum win you can make is x10000.
What makes Spellbinding Mystery Slot so popular among players?
Spellbinding Mystery Slot is popular due to its captivating Magical theme, vibrant graphics, and engaging gameplay.
How can you earn Free Spins while playing Spellbinding Mystery Slot?
To trigger the Free Spins feature in Spellbinding Mystery Slot, you need to land three or more scatter symbols. This activates the free spins round, where you can enjoy a designated number of spins with additional wild symbols and potential multipliers for enhanced winning opportunities.
Spellbinding Mystery Slot?Cai Shen 168 Slot?
Yes, many online casinos allow players to use the bonus money to play Spellbinding Mystery Slot. However, it's important to review the specific terms and conditions of the casino and bonus offer to ensure that this particular slot is eligible for bonus play.
Where can I play Spellbinding Mystery?
Spellbinding Mystery is available at various reputable online casinos. We recommend checking our carefully curated list of casinos to find the perfect platform to unleash your inner wizard and indulge in this magical slot game.
Is Spellbinding Mystery Slot available on mobile devices?
Spellbinding Mystery can be enjoyed with seamless mechanics and graphics on Android and iOS smartphones!