The Riches of Caliph Slot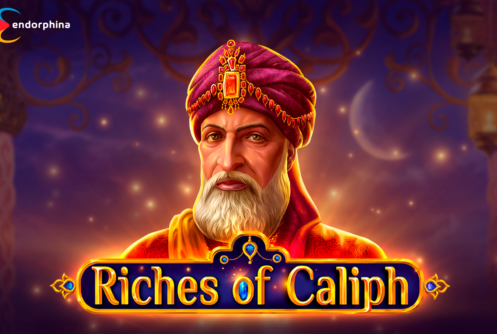 PLAY FOR REAL MONEY
Rated 93 of 100%
welcome bonus
200%/€1000 + Free Bonus Feature
The Riches of Caliph Slot Review
Seize the challenge to change the course of fate for the Sultan's beautiful daughter.
Slot Information
Provider: Endorphina
Return to Player: 96.07%
Volatility/Variance: Low
Progressive Slot:
Slot type:
Rows: 5
Reels: 4
Paylines: 40
Slot Layout: 5x4
Slot Features
Minimum Bet: $0.01
Maximum Bet: $80
Maximum Win: $225.000
Available:
Other key facts
Date Launched: 7 April 2023
Theme:
Jackpot:
Gamification:
Special Symbols:
Good sides
+ Exciting Risk Game feature
+ Great Wins
+ Golden Elixir Bonus Game
Play The Riches of Caliph Slot for Real money
Rated 93 of 100%
welcome bonus
200%/€1000 + Free Bonus Feature
Rated 91 of 100%
Intro to the Riches of Caliph Slot
Dive into the enchanting world of Riches of Caliph, a captivating casino slot by Endorphina that transports you to an oriental land brimming with wealth and mystery. In this mesmerizing game, your mission is to protect the Sultan's daughter, whose fate is threatened by a snake's bite. As you venture through her tower, keep a watchful eye for the sneaky snake Wild Symbol that often appears stacked, increasing your chances of securing substantial wins. Alongside this intriguing narrative, Riches of Caliph offers enticing free spins and a thrilling gamble feature, giving you the opportunity to double your wins up to 10 times. Embark on this unforgettable adventure and experience the allure of Riches of Caliph.
Riches of Caliph Slot Return to Player – RTP – 96.07%
The Riches of Caliph slot boasts an impressive Return to Player (RTP) of 96.07%, placing it in the league of slots with favorable payout rates for players. With medium volatility, this alluring game strikes a balance between the frequency and size of payouts, making it an appealing choice for a wide range of players. The prospect of landing the maximum win in Riches of Caliph presents the opportunity to multiply your bet by a staggering 2000 times, adding a thrilling dimension to your gaming experience as you navigate the enchanting world of this captivating slot.
What are Multiline Slots?
Multiline slots are a popular category of slot games that feature multiple paylines or winning combinations, providing players with an increased number of opportunities to land winning combinations compared to traditional single-line slots. These games can offer anywhere from a few paylines to several hundred, depending on the slot's design and mechanics. The allure of multiline slots lies in the excitement and anticipation of landing wins across multiple lines simultaneously, resulting in potentially larger payouts. In addition to the increased number of paylines, multiline slots often come with a variety of bonus features, such as free spins, wild symbols, and bonus rounds, further enhancing the gaming experience and boosting the potential for big wins.
Riches of Caliph Slot Review
Riches of Caliph slot transports players to a mesmerizing and mysterious world with its stunning graphics and captivating theme. The game is set in a mystical city called Caliph, bathed in a dreamy blue light that highlights its ancient mosques and architectural marvels. The city's name might be a bit puzzling, as the term "caliph" also refers to the chief Muslim and religious ruler of a caliphate. However, this detail adds to the game's enigmatic charm. The blue reels are elegantly separated and adorned by intricate gold lines and ornaments, giving the game an air of opulence. The game's logo is prominently displayed above the reels, while the bottom left corner features a button for players to access the Bonus Buy feature, adding an extra layer of excitement to the gameplay
Riches of Caliph Slot Paytable
The paytable in Riches of Caliph slot is where players can view the value of each symbol and their respective payouts. This information is essential to understand how much each winning combination is worth and which symbols to aim for when spinning the reels. The paytable is divided into different sections, including low-paying, medium-paying, and high-paying symbols. Each symbol has a specific value that is multiplied by the bet amount to determine the payout for a winning combination. It's important to review the paytable before playing to ensure that you have a full understanding of the game's potential payouts.
Riches of Caliph Slot Symbols Explained
Riches of Caliph has a variety of symbols that represent the game's theme. The lower-paying symbols are represented by traditional fruit symbols such as cherries, plum, orange, and lemon. The medium-paying symbols include items like grapes, watermelon, dagger, and rubin jewelry, which reflect the wealth and luxury of the game's setting. The higher-paying symbols are the Sultan and his daughter, who are the main characters of the game's story. The Wild Symbol is represented by the sneaky snake, and it can substitute for all other symbols except the Scatter Symbol. Landing a 5-of-a-kind win with the Wild Symbol will award a massive 50X the bet. The Scatter Symbol is used to trigger the game's free spins round. Overall, the symbols in Riches of Caliph are well-designed and add to the game's immersive and engaging experience.
How To Play the Riches of Caliph Slot
To start playing the Riches of Caliph slot, simply adjust your bet size using the (+) and (-) buttons on the control panel. Once you've set your desired bet, click the Spin button to set the reels in motion. The Autoplay feature allows you to sit back and watch the action unfold automatically for a set number of spins. Keep an eye out for the Wild Symbol, which can substitute for all other symbols except for the Scatter Symbol, which triggers the free spins bonus round. As you play, remember to gamble responsibly and set limits on your cash and betting strategy to ensure an enjoyable and safe gaming experience.
Our 100 Spins Challenge on Riches of Caliph Slot
Looking for an exciting challenge? Join our 100 Spins Challenge on Riches of Caliph slot! Immerse yourself in the mystic world of an oriental city full of riches and try your luck protecting the Sultan's daughter from the sneaky snake. With a wide range of wagering options, this slot is ideal for all types of players, from risk-takers to newcomers. Experience the thrill of the game and see if you can land big wins on your 100 spins. Don't miss out on this opportunity to enjoy the Riches of Caliph slot and potentially earn some rewards. Join our challenge today and let the adventure begin!
Does Riches of Caliph Slot Work on Mobile?
Riches of Caliph is designed with mobile players in mind, offering a seamless gaming experience on smartphones and tablets. The game's responsive design ensures that it will look and play great on any device, regardless of screen size or resolution. Whether you're playing on the go or from the comfort of your own home, Riches of Caliph provides a visually stunning and immersive experience, complete with high-quality graphics, dynamic animations, and exciting gameplay. So, get ready to embark on an Arabian adventure and try your luck with Riches of Caliph on your mobile device today.
Try the Free Play Mode
We highly recommend that you try the free play mode of Riches of Caliph Slot before clicking the play button. Playing the demo version of the game is extremely beneficial and advantageous for you as it allows you to gain valuable gaming experience, enhance your betting skills, and improve your overall gaming quality in the long run. What's more, you can try it for free without any real money wagering or risk. Don't miss out on this valuable opportunity!
How To Win at Riches of Caliph Slot
It's important to remember that winning at Riches of Caliph is based on luck, as the game uses random number generators to produce results. However, there are some tips that can help maximize your chances of winning. First, make sure to familiarize yourself with the paytable and the value of each symbol. It's also recommended to play within your budget and set limits on your cash and bets. Finally, keep in mind that it's important to gamble responsibly and to have fun while playing. With these strategies in mind, you can unlock your good fortune and experience the excitement of winning big with every spin.
Bonus Features and Free Spins
Riches of Caliph has several bonus features that can help you win big. The Wild Symbol, which is represented by several snakes, can substitute all symbols except for the Scatter, and appears stacked on the reels, covering several positions. This can increase your chances of landing winning combinations. Another exciting feature is the Gamble Feature, where you can choose to gamble your winnings for a chance to double their value. It's a card game where you pick one card out of four facedown cards to try and beat the dealer's card. You can repeat this feature up to 10 times on one win, but be careful as the dealer can beat your card and take away your winnings.
In addition, the Free Spins feature can be triggered by landing 3 or more Scatter Symbols, awarding you with up to 30 free spins. You can also trigger extra spins within the feature by landing more Scatters on a spin. If you're feeling impatient, you can also use the Bonus Buy feature to purchase the Free Spins instead of waiting to trigger them naturally.
Riches of Caliph Slot Volatility
The Riches of Caliph slot is considered a game of low volatility, which means that it offers players frequent wins, but generally with lower payouts. This type of game is often preferred by players who enjoy longer playing sessions with more frequent payouts, and who are not as concerned with hitting a huge jackpot. While the payouts in low volatility slots may not be as high as those in high volatility slots, players can expect to receive payouts more frequently, which helps to keep the game exciting and engaging. The low volatility of the Riches of Caliph slot also makes it a good choice for players who are new to online slots, as it provides a relatively low-risk introduction to the world of online gambling.
Our Conclusion on this Slot Review
In conclusion, the Riches of Caliph slot by Endorphina offers an exciting gaming experience with its unique theme and graphics. With its low volatility, it offers frequent and smaller wins, making it an ideal game for players who prefer a longer gaming session with steady payouts. The Wild Symbol, Gamble Feature, and Free Spins add to the game's excitement and increase the chances of landing big wins. The Bonus Buy feature is a great option for players who are willing to pay for the chance to trigger the Free Spins. The game's mobile compatibility ensures that players can enjoy it on the go, and the free play mode offers an excellent opportunity to try out the game before betting real money.
The Riches of Caliph Slot: FAQ
Is it possible to trigger Big Wins in The Riches of Caliph Slot?
Yes, it is possible to trigger big wins in Riches of Caliph Slot. The game's max win is 2000x the bet, and the Wild Symbol pays 50x the bet for a 5-of-a-kind win.
What makes Riches of Caliph Slot so popular among players?
Riches of Caliph Slot is popular among players due to its engaging theme, exciting gameplay, and various bonus features such as the Wild Symbol, Gamble Feature, Free Spins, and Bonus Buy.
How can you earn Free Spins while playing Riches of Caliph Slot?
You can earn Free Spins by landing 3, 4, or 5 Scatter Symbols anywhere on the reels, which awards 10, 20, or 30 free spins. You can also trigger extra spins within the feature by landing at least 3 Scatters on a spin.
Can you use Bonus Money to play Riches of Caliph Slot?
It depends on the specific online casino's terms and conditions. Some casinos may allow players to use bonus money to play Riches of Caliph Slot, while others may restrict bonus funds to certain games.
What is the inspiration behind the name of Riches of Caliph Slot?
The inspiration behind the name of Riches of Caliph Slot is the game's oriental theme, which features a Sultan and his daughter in a city named Caliph, full of riches.
Is Riches of Caliph Slot available on mobile devices?
Yes, Riches of Caliph Slot is available on mobile devices such as smartphones and tablets. The game is optimized for mobile play, allowing players to enjoy it on the go.